Ice Storm February 2015, Tennessee
About 3 months ago my beloved husband and I moved from sunny California (I was born and raised there) to Knoxville, so this is my first Ice storm/lots of snow and I honestly thought i'd be panicking more than I thought! I was a bit nervous when it was happening, but other than that, I enjoyed seeing the aftermath in our neighborhood... It's a White Wonderland!
So what do you think I did during all this cold? Yup, you got it! Made a whole new batch of dyed tunis/alpaca with some merino wool into the mix!
You know, after carding the already dyed wool, I was wondering, "Is there a way I can spin straight from the carder onto the bobbin?", so after some research and learned of different techniques, I decided to give it a "whorl" (HAHAHA! I crack myself up... C'mon... that was a real knee slapper.), and it was amazing!
Spinning straight from the carder onto the bobbin next to our fireplace in this cold weather... Heavenly!
I will admit, I was quite excited to have found the right technique for me that I asked my husband to record it...
But other than learning this new technique I had the most wonderful time spinning one bobbin (filled it all up!) and now working on my second bobbin in order to ply! The colors are more on the purple hue side with some tinsel to add sparkle!
I just remember a dream I had not too long ago that I was sitting in a clear field with trees surrounding the field. There was only one tree trunk in the shape of a chair that I was sitting on, it was summer time because I could see I was wearing a summer skirt and top, and I was spinning at my wheel, but there was absolutely no fleece surrounding me, so in my dream I looked closer at what I was so intently spinning and what I saw had me in awe...
I was spinning the sky! I looked up and saw vivid colors of the sunset on the clouds and I was spinning the clouds onto my bobbin and then the sky grew dark but I kept spinning, and the stars came out and I was spinning the stars onto my bobbin
the stars looked like fire and diamonds mixed into the soft yarn made of clouds and the sky!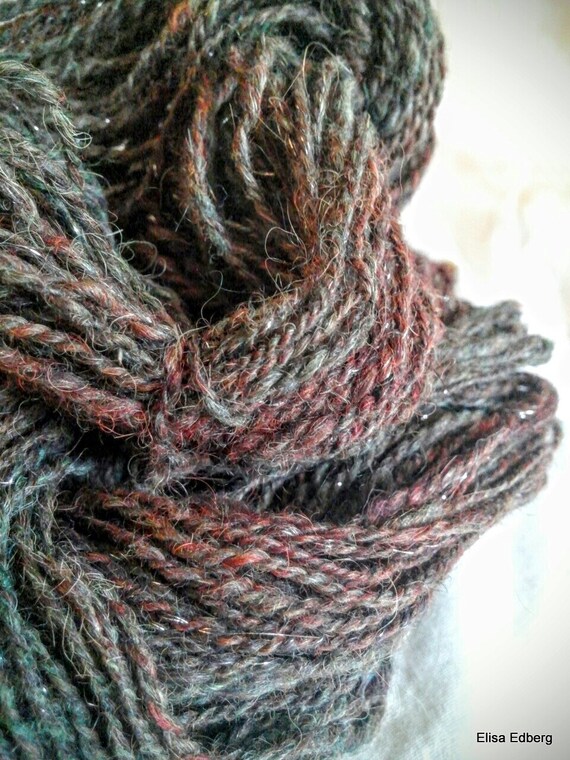 Twilight (50 yards) click on photo to be redirected to my Etsy Shop
I remembered that dream that the Lord gave me, and I was inspired by it and wanted to make something like what I saw in my dream... of course there is no stars, fire, or diamonds on this yarn... but there is sparkly tinsel! Close enough, eh?
But beside all that I loved having fun in this cold wonderland! But I will admit one thing... Goodness I can't wait for spring!!!!!
While many are drinking hot coffee or hot chocolate, I drink an ice cold slushy during this ice storm... I too like to live dangerously!
I must brag about my beloved! He is so creative!!!! He is really interested in wood art/carving and this is what he made:
He burnt our last name into the wood a few months ago, but just recently he found what he wanted to burn above our name! Our home state and under the star he burnt it says "Home".
and,
He made the shape of Tennessee from a wood pallet and burnt the words on it!
These two AWESOME items he created looks beautiful on our mantle!
No better way to end a cold day than cuddle on the couch with the fire on, snow falling from the sky outside, and our sadie girl snoring peacefully inbetween us on the couch as we have our family devotions!