I've been spinning on a wheel since Christmas Day 2014, have been spinning on a drop spindle since October 2014, and became interested in spinning my own yarn (and obsessed with blogs, articles and youtube videos on anything to do with spinning fibers/dyeing fibers) since September 2014!
Since December I have been enamored with this particular photo I took off from pinterest:
NOT MY YARN or WORK... just showing a photo I took from pinterest that started my quest to make something of like quality!



After I saw this picture, I believe I stared at it for 5 minutes straight... it's not just the colors that captured my attention, it was the way the colors were sporadic and sort of random but yet all in order... I can't explain it, but it was the most beautiful yarn i've seen! I knew right there and then, that this was my goal, this was the kind of yarn i'd pride myself on making!

I searched the internet and asked other spinners how to get this kind of quality in my dyeing and hand spinning, majority I asked and searched purchased the rovings already dyed or already batted together on a drum carder and all they had to do was spin it. I didn't want that, I wanted to learn how to do it from scratch!

So my journey began (since January when I got my dyes and raw fleece from tunis sheep and alpaca) to get this kind of yarn from my own fleece, dye and wheel!
I tried dyeing the roving with a color here and a color there, but it all looked too "tie-dye" and spinning it, it looked really nice, but it wasn't what I truly desired! The colors were uniformed perfectly and I didn't want that at all... So, I tried again!
This time, I tried spinning my roving naturally and then dye afterward sprinkling the colors I wanted here and there...
Then I spun another bobbin of singles and dyed here and there and 2 plied these colors together, and it came out looking lovely! But no what I wanted!!!!!
I proceeded to try spinning the roving (natural color) and try this same concept again, but I wasn't careful and ended up blending all my dyes together... but it came out as a side blessing because these colors came out!!!
I was so shocked and pleasantly surprised and was so pleased that I remembered what dyes I put in and the amount and for how long (and of course wrote them down for future reference!), see? Accidents can be the best thing that can ever happen to you! ;)
But still, I was determined! I would not stop until I got the yarn of my dreams that I made myself...
I kept on looking online and asking around, but so far I wasn't getting anywhere new. One day, I was lying in bed and couldn't sleep (my husband can sleep so easily! I envy him... my mind is constantly thinking creative thoughts I can't turn it off sometimes! Ha ha!), so what do I do while i'm lying in bed? Go on pinterest and look at handspun yarn, dye tutorials, rustic handmade items and dream of our future land, home and sheep on our tiny homestead!
While browsing the internet I came across fiber artists using drum carders and making beautiful batts, and others using large blending boards to make rolags. I watched with longing and admiration as they blended all these beautiful colored fibers on the blending board and roll it tight to make rolags... whoa... wait... "THERE IT IS!" I gasped and shot up in bed as my beloved moaned and groaned and said, "Baby, watching more spinning stuff?" and dosed to sleep... he knows me well, even while talking in his sleep. Ha ha!
I needed to blend these colors not on a hackle (I tried that multiple times and didn't come out exactly as I wanted it), but on a blending board and roll it in rolags! Then I slumped down in my bed realizing, wait... I don't have a blending board, or one of those fancy dowels or sticks to roll up a rolag anyways... Sigh...
Next morning, I was taking sadie girl for a walk (our big goofy blockhead of a pup!) not thinking much about my spinning adventure (sometimes I have to take a break from creativity!) listening to my youtube playlist (Zac Brown Band, Josh Turner and some Blake Shelton), when in the middle of our walk it dawned on me, I don't need a huge and expensive drum carder or blending board with it's fancy brush and dowels! I can just use what I have on me! Until I have enough money, I can just improvise!

I rushed us home (sadie girl not happy at my interrupting her sniffing everything in sight) and took all my dyes out and began dyeing solid colors with each 4 oz. or so of my tunis/alpaca. No fancy dyeing here and there, just a mixture or colors blended to give the roving what color I wanted. I did 5 batches of the colors I wanted.
Then I looked around in my crochet and crafting area for anything that would be useful for a brush and 2 dowels (as I had my hand carders which would serve as my blending board). I found two old crochet hooks and a clean old paint brush!
So I began to blend! I started out with the forest green and added it to my carder sporadically (it wasn't entirely covering the carder perfectly) and brushed it down with my clean paint brush in order to add my other colors!
I loved adding a roving that was not dyed at all to give it the white I wanted! I just placed it in 2 spots on my carder.
In between the natural color I added another (in 3 spots as to not overlap the white just yet) .
I added over the white another color... see what i'm doing here?
With each application I brushed the fiber down...
I only used a minimum amount as I didn't want to overwhelm the bristles!
For this application (the purple) it wasn't my own fibers, but leftover merino I purchased when I first was learning how to spin on my wheel! No wasting here!
Now it was time to use my dowels... er- crochet hooks! I placed one hook behind all my fibers on the carder, and the second in front, they were not placed evenly, but one was longer than the other. I then rolled the hooks down, and drafted with each roll gently...
The reason why I had one hook remain longer than the other was when I was done rolling them, I can find one hook and push it out of my rolag and the other hook always finds the hole I pulled the other one from!

This was my rolags (not entirely perfect but they did the job!) that I made with just 2 hand carders, old paint brush (clean) and 2 crochet hooks!
I spun in this same pattern. Green-Red-Green-Red, etc...

I decided I didn't want just "green" based yarn so I made another batch of rolags with a "wine" color like foundation and used the same colors I used for green but I added them to my carders backwards so it seems like the colors are slightly different which added a lot of beauty to my yarn!
Below is a video I made (with the help of my beloved) that will detail how I made this gorgeous rustic rolags.
After spinning singles for a while, look how absolutely gorgeous the rolags have spun on my bobbin!!!! After 4 months of mistakes and never giving up, I finally got it, I finally got the results I absolutely wanted and I am so HAPPY!!!!!!

Then after I finished the very fine singles, I then plied it (Navajo ply). I just have to say, Navajo ply is nothing to run away and hide under your blanket! It's exactly like crocheting chains, except with your fingers! In my video, there is no voice as I have learned (self taught by watching youtube videos) that I learn better by muting sound and completely watching the movement! If you are that kind of learner, then you will enjoy... I hope. Ha ha!
After 3 weeks of dyeing, blending, spinning and plying I got the yarn that I have worked so hard to attain!
I named this yarn: Inspiration.


Update:
Right after taking photos of my finished yarn I dropped it twice on accident and each time it snagged and it became a tangled mess!
Oh, I just wanted to cry!!!! 435 yards of complete tangled messiness! But I was not about to give up on putting this to skein once again! So for the past 4 days I have been very slowly and carefully detangling my gorgeous yarn, and so far I am almost done!!!!
One thing I will say, i'm actually glad that happened. Why? So I can practice patience and a peaceful attitude! It also helped me appreciate all the work I put into it and to not take for granted that I have the blessing of being able to stay home full time as my darling husband works hard for me to do so and fulfill my dream! I love that husband of mine!
I hope you all have enjoyed this post as I have enjoyed writing it, I am so thrilled to share with all who is reading this!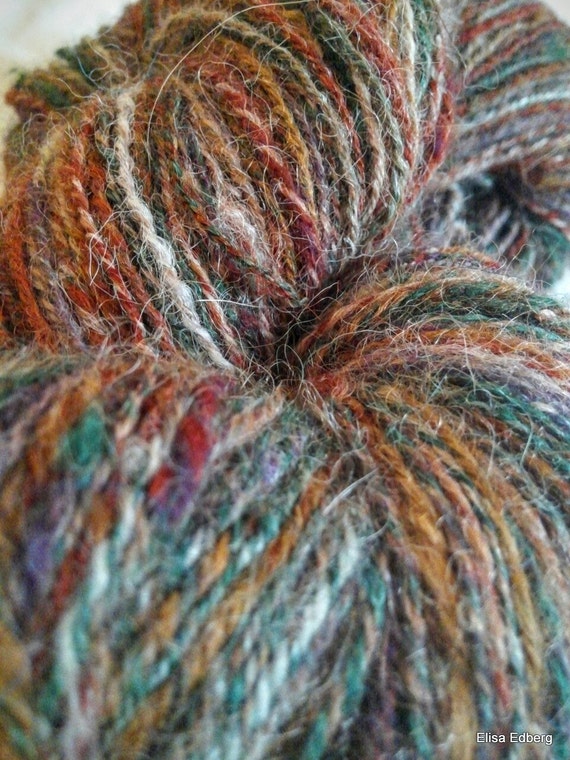 Inspiration (230 yards) click on photo to be redirected to my Etsy Shop